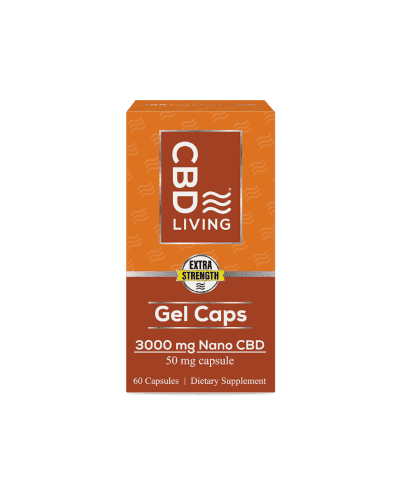 CBD Living 50mg (3000mg Total) Extra Strength Gel Capsules
$125.00

The fastest, easiest way to get your daily CBD! CBD Living Gel Caps combine CBD with non-psychoactive phytocannabinoids, terpenes, phospholipids, nutrient-rich hemp oil and Omega-3, -6 and -9 Fatty Acids, creating what is called an Entourage Effect.
60 Gel Capsules per Bottle
50mg per Capsule
3000mg Total per Bottle
In stock
Description
CBD Living's Proprietary Self Emulsifying Technology allows oil soluble nutrients, including our broad spectrum CBD, to be delivered in an oil formulation. As soon as the oil hits the stomach's aqueous media, a water soluble micelle structure is formed with a particle size of <100 nanometers. The droplets are carried from the lymphatic system directly to the bloodstream for fast, sustained relief.
Product Details
Nano Emulsion (~25 nanometer droplet)
60 Gel Capsules per Bottle
50mg per Capsule
3000mg Total per Bottle
Typical Plant Nutrient Profile Per Serving:
Terpenes (Limonene, Humulene, Beta Pinene, Linalool, Myrcene, Beta Caryophyllene) – 5 mg
Omega-3 Fatty Acid – 24 mg
Omega-6 Fatty Acid – 218 mg
Omega-9 Fatty Acid – 53 mg
Phospholipids – 14 mg
Additional information
| | |
| --- | --- |
| Cannabinoid Profile | Broad Spectrum |
| Concentration | |
| Extraction | |
| Product Family | |
| Quantity per Package | |
| Vendor | |