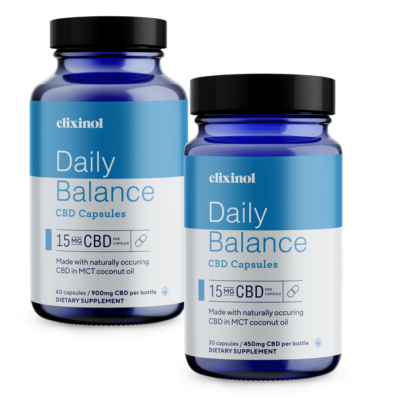 Elixinol Daily Balance Capsules
$34.00 – $64.00

Full Spectrum CBD Capsules
Sometimes we just need a way to smooth out the proverbial bumps in the road. Consider this your means of finding balance, daily. With a perfect blend of full-spectrum hemp oil and MCT coconut oil, Elixinol's Daily Balance CBD Capsules are an easy way to feel better and keep your life running smoothly, daily.
Description
A Healthy Dose of Harmony
Elixinol's full-spectrum CBD capsules expertly blend hemp extract with MCT coconut oil to create the foundation for a clean, reliable CBD capsule. Encapsulated in vegan capsules, their Daily Balance CBD Capsules are an easy no-mess way to maintain balance every day. Simple ingredients, brought together to make something that is, well, kind of amazing.
Vegan Capsules
Non-GMO
Encapsulated Liquid for absorption
No synthetic chemicals, colors or fragrances
No isolated cannabinoids
No harsh solvents or toxic chemical used
Supercritical CO2-extracted full-spectrum hemp oil
Available in 2 sizes – 450mg (30 capsules) and 900mg (60 capsules) CBD per bottle
Vegan & Vegetarian Friendly
Non-GMO
Gluten-Free
Lactose-Free
Cruelty-Free
Kosher
15mg CBD per serving (1 capsule)
Servings per container:

450mg – 30 servings
900mg – 60 servings

Other Ingredients: MCT Coconut Oil, Vegetarian Capsules [HPMC, Purified Water, D-Sorbitol], Silica
Suggested Use: Take one capsule twice daily with food or as needed. Avoid excessive heat, light and humidity.
No harsh solvents or toxic chemicals
Supercritical CO2 Extracted
Better Together
At Elixinol, they believe in the power of teamwork. We believe the whole is greater than the sum of its parts. Meet the ingredients in your kind of amazing product:
Full-Spectrum CBD (From Hemp Plant) – CBD a compound derived from the hemp plant. Taking CBD is believed to have beneficial qualities on the endocannabinoid system, a system in the body that regulates various responses such as memory, pain, mood, sleep, appetite and immune function. We use full-spectrum CBD in our products, which means you get the full scope of healing benefits from our sustainably-sourced hemp plants, without the psychoactive side effects of THC.
MCT Coconut Oil – This liquid form of coconut oil works as the ideal carrier for lipid-soluble cannabinoids like CBD. With a neutral flavor and plenty of benefits of its own, MCT Coconut Oil works as the base for all of our Daily Balance tinctures and capsules.
Vegan Capsules – We only use vegan capsules to house our special Daily Balance CBD formula. These types of capsules are used by forming vegetable cellulose and are a great alternative to gelatin capsules. Vegetarian capsules are tasteless and odorless and perfect for people who cannot consume gelatin for any religious, cultural or dietary reasons.
Kind of Amazing – While many of Elixinol's ingredients are effective on their own, we know they can work even stronger together. Because when simple ingredients are thoughtfully formulated, they can make something that is, well, kind of amazing.