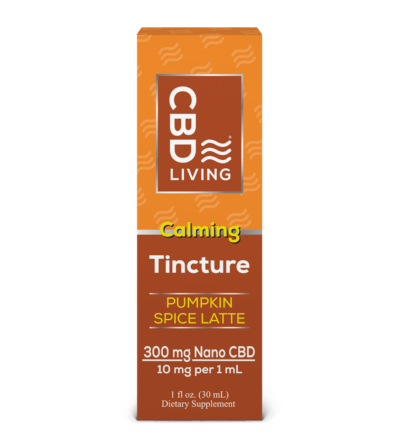 CBD Living Tincture – 300mg Pumpkin Spice Latte
$29.00

Your daily tincture dose doesn't have to be boring and tasteless! Savor the flavors of fall with new CBD Living Pumpkin Spice Latte Tincture. Available in two strengths – 300 mg and 750 mg – CBD Living Pumpkin Spice Latte Tincture is easy and convenient, and ideal for beginners.
CBD Living's Proprietary Self Emulsifying Technology allows oil soluble nutrients, including our broad spectrum CBD, to be delivered in an oil formulation. As soon as the oil hits the stomach's aqueous media, a water soluble micelle structure is formed with a particle size of <100 nanometers. The droplets are carried from the lymphatic system directly to the bloodstream for fast, sustained relief.
Only 1 left in stock
Description
BENEFITS
* Certified Kosher
* Gluten-Free
* Non-GMO
* Natural ingredients used
* THC-free
* CBD Living uses only 100% organic hemp sourced from state-licensed farms in Oregon and Colorado.
* Made in the USA
INGREDIENTS
Per 1 dropper (1 mL)
Proprietary Broad Spectrum Hemp Extract (aerial parts), Purified Water, Vegetable Glycerin, Erythritol, Self-Emulsifying Technology, Sodium Caseinate, Natural Flavors, Citric Acid, Sodium Benzoate, Potassium Sorbate, Rebaudioside A (Stevia).
HOW TO USE
* Take 1 dropper (1 mL) 2-3 times per day.
* Take directly or add to a meal, your favorite shake or a hot beverage.
* A typical serving (1 dropper / 1 ml) of CBD Living Pumpkin Spice Latte Tincture contains 10 calories and 1 gram of fat.
* Store in a cool, dry place.
* * These statements have not been evaluated by the Food and Drug Administration. This product is not intended to diagnose, treat, cure or prevent any disease.
Available in:
1oz (30mL) with 300mg of nano CBD: 10mg of CBD per drop
1oz (30mL) with 750mg of nano CBD: 25mg of CBD per drop